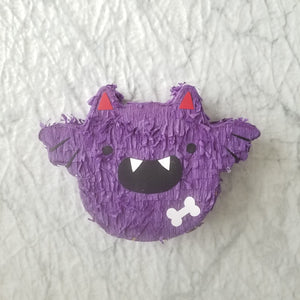 Dive into the enchanting world of Halloween with our "Winged Whimsy" Bat Mini Piñata. This adorable creation is more than just a decoration—it's a charming accent that adds flair to your festivities. 
Please read the following information carefully:
The Mini Halloween Piñatas collection includes assorted sweet treats.

Mini piñatas designed for decoration—no smashing needed.

All mini Piñatas measure 1.5" in width. 

Due to its handmade nature, mini piñatas may display slight differences in hue and size.
Piñata Box Dimension: 6.57" tall, 8.75" long and 1.5" wide
This listing is for ONE Bat Piñata Collectible.
Designed and Handcrafted in Vancouver by Josephine