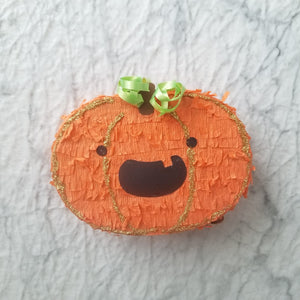 Indulge in the warmth of fall with our "Pumpkin Spice n' Everything Nice" Piñata—a delightful fusion of autumnal charm and the sweet allure of pumpkin spice.
Please read the following information carefully:
The Mini Halloween Piñatas collection includes assorted sweet treats.

Mini piñatas designed for decoration—no smashing needed.

All mini Piñatas measure 1.5" in width. 

Due to its handmade nature, mini piñatas may display slight differences in hue and size.
Pinata Box Dimension: 6.75" tall, 6.25" long and 1.5" wide
This listing is for ONE Pumpkin Pinata Collectible.
Designed and Handcrafted in Vancouver by Josephine